Palladium diamond solitaire ring
Palladium diamond solitaire ring
(approximately 15points and H/I colour)
Dainty 4 claw crossover style solitaire made in palladium.
UK finger size L but can be altered.
A perfect ring to wear everyday, could be a perfect gift for a special birthday, anniversary or engagement.
Full UK hallmark
£500, includes UK postage
Category: Unique By Design
Tags: April birthday, Birthstone, bridal set, crossover, dymondjewellery, Engagement ring, hallmarked, handcrafted, palladium, proposal, Singlestone, Solitaire, special birthday, Tags-Diamond, wedding ring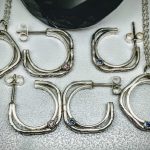 Frame Collection
Frame Stone Set Hoop earrings and pendant set (pierced ear fittings are standard, please contact me for non pierced prices) Chains will be 16/18 inches as standard. These are set with vivid colourful 2mm Cubic Zirconia stones as standard but any stones can be quoted for. I am a huge steampunk fan but also love mechanical things, I love contrast too so the contrast of shapes, oxidisation can be added against the silver and where it has rubbed back it looks amazing-and also the colour pops where stones are added on some pieces is the inspiration for this collection. The earrings and pendants are are made using approximately 2mm wide hand patterned wire in a square shape, framing a round band. They can be polished silver, or oxidised with a little bit of the black rubbed back to give it a more organic and steampunky feel. Each pair of earrings and pendant is handmade made individually, and wire patterns may vary from set to set. Approximate width across the hoop is 18mm-20mm, post length will be a standard 10mm and standard stones are 2mm Cubic Zirconia Please confirm if you'd like oxidisation when ordering or it may delay the order. Chains are complimentary and can be 16 and 18 inches adjustable, but if you would prefera fixed lentgh or a specific style or weight, please contact me before ordering for a price adjustment. £125 per set plus postage of £6 Lead time of approximately 2 weeks from payment but please confirm choice of stone colour from the image supplied. I am happy to quote for custom orders in any other precious metals, different sizes or with different stones incorporated into the design. Please just ask!
£

125.00