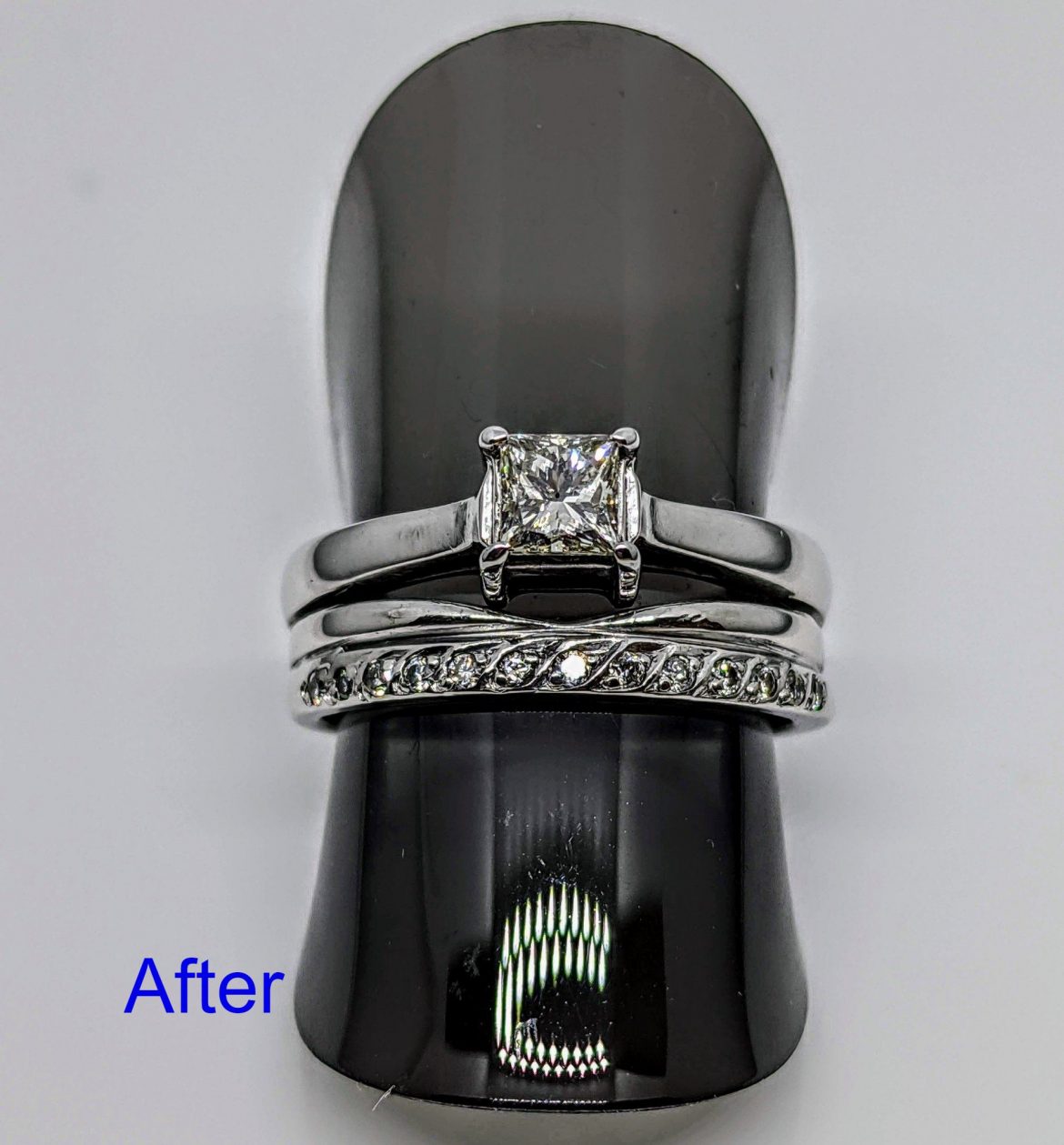 I was recommended on a local Facebook page when someone asked about recommendations for having their rings replated so though I would write a few thoughts down about it. (White gold rings are often sold with a bright white plating called Rhodium which wears away over time)
Rhodium is a very hard and very white metal but the layer of plating is very thin and can wear quickly if the rings are worn every day and for things like housework or gardening. It does make a very striking difference though, especially on diamond rings.
White gold is a greyish colour and plating can lift the polished finish. I had a few people message me from that post and isI created a post of my own about one of the lovely rings I have worked on. I always check the ring thoroughly before carrying out any work as I don't want my customer to incur any costs they may not be expecting.
This particular ring, had a black mark where some solder had tarnished and had some light scratches from wear. It is an engagement ring and wedding ring soldered solid to stop the rings spinning (not done by me) and the grains holding the smaller diamonds in were wearing a little on the outside, although the stones all seemed secure. I went through all the outside grains and used a graining tool to rebead them, effectively rounding off and crisping up what is already there.
I then used some fine grade emery paper to remove light scratches on the band before polishing and cleaning thoroughly. Then I Rhodium plated the ring. This is an electroplating process similar to adding chrome to car parts but a much smaller scale! Although some high street shops may advise to have rings "redipped" as often as you like I don't recommend that. If you have a chunky wedding ring it won't do it any real harm but each time a ring is replated a little more detail can be lost on delicate settings, engraving or patterns so especially on rings like that in my post. I suggest they are checked no more than twice a year. This should be plenty, meaning you don't spend more money than you need to and the finer details will last longer. (although if you drop or knock your ring in the meantime it is an idea to have a professional check it over)
The ring in my post was very pretty and my customer was very happy that she could leave it with me for a few hours while I carried out the work. Most jewellers with a workshop should be able to offer this service for straighforward cleans, even if it means arranging a mutually convenient day or has a slightly higher charge than leaving for a few days.
It is always worth asking if you don't want to leave a precious piece of jewellery with somebody over night. Always ask for reviews or proof of insurance before leaving anything with anybody though.